Betsie Bolger and Jon Mott: Providing sustaining support for animals in need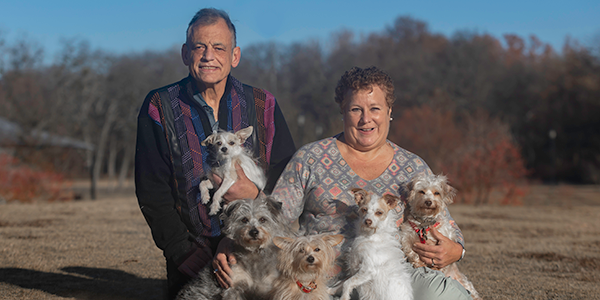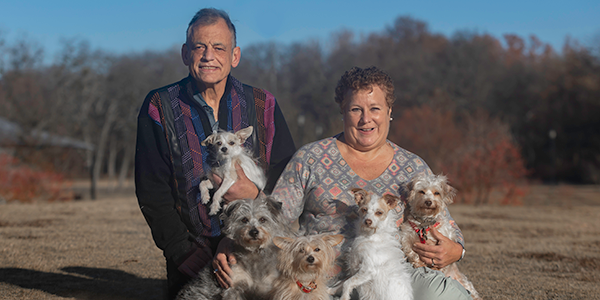 Betsie Bolger and Jon Mott first learned about the SPCA of Texas in 2007, when they entered a music video featuring their rescue dog Pookah in the SPCA of Texas' Petflix Video Festival. Pookah Rules (which you can still watch on YouTube) won recognition as a Short Tails Finalist.
Petflix culminated in an awards night at the Granada Theater in Dallas. The Long and Short Tails Finalist videos were shown on the big screen, after which the winners in each division received prizes. But Betsie surprised Jon with a joyful, unexpected prize instead: a three-month-old Schnaubrador from SPCA of Texas's mobile adoption van, which was in attendance at Petflix that night. The couple named their new pup Flixy in honor of the event.
While Flixy has since passed away at the ripe old age of 13, Betsie and Jon have continued fostering with the SPCA of Texas. Two of their current five dogs are even SPCA of Texas alumni. Coco was adopted in 2014, while Half Pint came to them last June, during the COVID-19 pandemic.
Betsie describes Half Pint as "our foster fail at first sight" since she and Jon planned from the outset to adopt her as soon as the little Schnauzer-Chihuahua mix appeared in an urgent foster request.
Coco has been progressing literally by leaps and bounds since Betsie started taking agility classes with her in 2017. Now formally known as ADCH Coco Quickly after earning her Agility Dog Championship last Fall, Coco recently won her division of the Texas Hold 'Em Cup International Sweepstakes Class. She has also competed at the American Kennel Club's National Agility Championships.
When discussing the couple's commitment to rescue dogs, Betsie says, "We always try to keep an open spot in our home for a dog in need. You never know when you will need to help, and we want to be able to help when the need arises."
Betsie's and Jon's generous spirit does not stop with rescue dogs, however. In April 2020, they answered the SPCA of Texas's call to become sustaining monthly donors. This important group of donors provides vital funding through their monthly support so that the SPCA of Texas may rise to meet any challenge or crises, such as the COVID-19 pandemic. We are incredibly thankful for Betsie and Jon, and the hundreds of other sustaining donors to the SPCA of Texas, for the many ways they support the organization.
Coco, Half Pint, Jakey, Riley, Teddy, and their fellow feline rescue, ZippyCat, are all immensely grateful for the giving hearts of their owners, as are the rest of the animals whose support Betsie and Jon have funded.
If you'd like to become a Sustaining monthly donor, visit www.spca.org/sustainer.